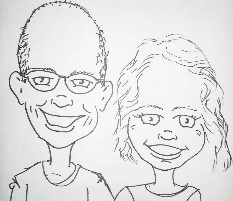 Both Vicki and I have enjoyed many years of day cruising along the Potomac River. Now we want live aboard full time and explore! We both knew a planing boat was not for us, so a full displacement trawler type of vessel was the boat we needed. We just didn't know which one. We traveled to many boat shows and trawler fests and kept returning to the Kadey Krogen brand.
Finally, in the fall of 2013 we followed Kadey Krogen's "If not now, when?" and started seriously looking for the perfect boat. As luck would have it, we found a one owner Whaleback for sale and immediately fell in love with her. As it turns out, this was the first Whaleback to be designed with two state rooms, and the living area was perfect for the two of us.
So suffice it to say, that shortly afterwards, we were the proud new owners of "Last Mistake." We have both retired and are now moving ahead with our plans. First up is the Chesapeake Bay, followed by an ICW trip next winter and then eventually the Great Loop.
Hope to see you on the water!